About Dr Ophelia Veraitch
MB BS BSC (HONS) PHD MRCP (DERM)
CONSULTANT DEMATOLOGIST, LONDON.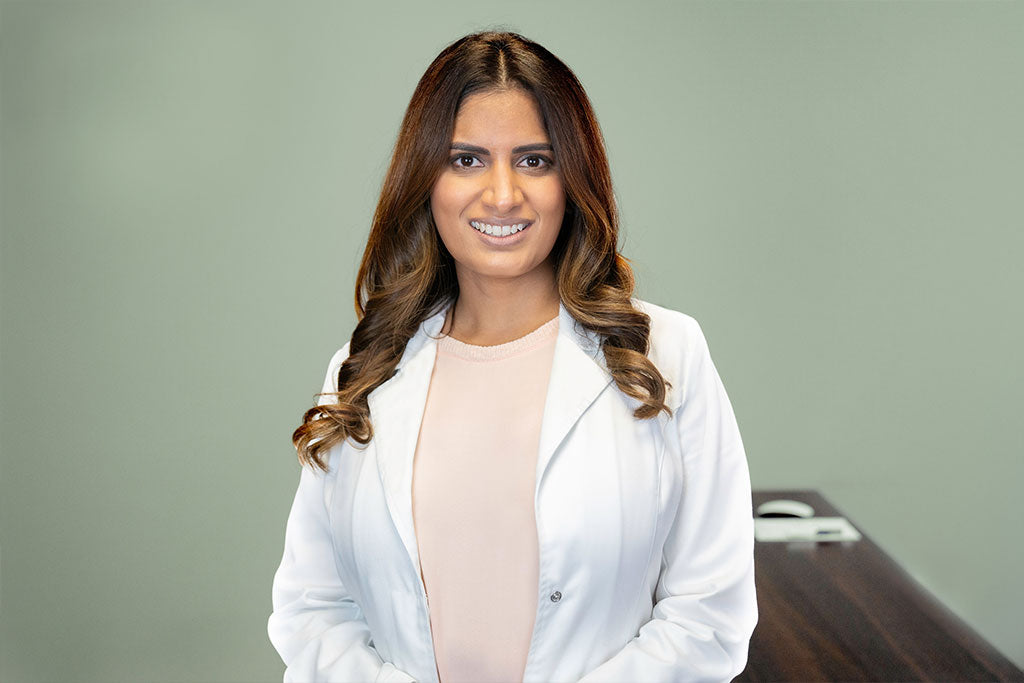 As an award-winning and highly coveted Consultant Dermatologist, Dr. Ophelia Veraitch has dedicated her career to the research, education and treatment of skin and hair conditions. With a proficiency in both general and cosmetic dermatology, Dr. Veraitch holds influential positions in the academic sector and skincare industry, whilst privately treating patients at her Harley Street clinic. She has also developed a revolutionary new range of products for her clientele that mark a new era in skin and hair care.
"I chose medicine because I wanted to help people and feel fulfilled by a profession that is characterised by challenges and lifelong learning. I enjoyed the science in medicine and found the skin and hair follicle the most fascinatingly complex organs in the body. With skin and hair conditions dramatically impacting mental health and confidence in society today, I was inspired to pursue a clinical and academic career in Dermatology."
- DR OPHELIA VERAITCH
After graduating with honours from Imperial College London and training at top London teaching hospitals, Dr. Ophelia Veraitch was awarded a prestigious Mongbukagakusho Scholarship. This allowed her to spend 4 years living in Tokyo, Japan, to complete her Dermatology PhD, which focused on hair follicle bioengineering at a world-renowned and Nobel prize winning stem cell laboratory. She then went on to be awarded a highly competitive residency at the St John's Institute of Dermatology at Guy's and St. Thomas' Hospitals in London, completing a vigorous and sought-after training programme in Dermatology.

Passionate about imparting her knowledge and expertise to the next generation, Dr. Veraitch also currently holds a principal NHS Consultant Dermatologist post at University College London Hospital (UCLH), one of the major London teaching hospitals.
Located in a prominent London address, Dr. Ophelia Veraitch privately treats her patient's skin and hair conditions in an established clinical practice. As an experienced Consultant Dermatologist, Dr. Veraitch unites her profound understanding of skin and hair with the highest level of medical care and the most advanced cosmetic treatments.

Attracting a global client base that boasts famous faces and members from several Royal families, Dr. Veraitch will work with every patient individually. From the initial consultation to devising a personalised course of treatments, what sets Dr. Veraitch apart from other Dermatologists is that she formulates products for her patients in our London laboratory to use as part of their everyday skin and hair regimes.

If you are interested in a consultation with Dr. Veraitch's at her Harley Street practice, book online or read more about her services here.
Dr. Ophelia Veraitch continues to publish original research and reviews in peer-assessed journals and book chapters. She has also been presented with numerous awards for her research and work, with honours bestowed by:

- The Royal Society of Medicine Dermatology Section (2010, 2017, 2017)
– European Society of Dermatological Research (2011)
– North American Hair Research Symposium (2012)
– The British Society of Investigative Dermatology (2014)
– The Japanese Society of Investigative Dermatology (2014)
– The European Society of Hair Research Fellowship Award (2018)
– Collaborative Travel Award (2018)

Additionally, as a Consultant Dermatologist, Dr. Veraitch is on the GMC Specialist Register for Dermatology (the UK equivalent of the American 'Board Certification in Dermatology') and her GMC number is 6149018.


Well-versed in identifying and treating patients with a wide variety of concerns, Dr. Ophelia Veraitch began finding it increasingly challenging to recommend effectual products to her patients that still suited a range of sensitivities and allergies. This discernible gap in the market led her to start formulating products based on her individual patient's needs.

Following impressive results and glowing feedback, Dr. Veraitch was inspired to introduce her gold-standard treatments to the wider public, allowing everyone access to these life-changing skin and hair care products.

Explore the Dr. Ophelia Skin and Hair collections now.

Dedicated to ensuring everyone has access to well formulated skincare based on science, Dr. Ophelia Veraitch is frequently invited to review product formulations and test protocols for prominent international skin care brands. Additionally, she has made a name for herself as a member of the prestigious L'Oréal Paris International Board of Dermatologists (representing both the UK and India).

View an example of Dr. Ophelia's work with L'Oréal here.
Cutting through the confusing noise with a clear voice and a steadfast reputation, Dr. Ophelia Veraitch is frequently interviewed and quoted in the media, coveted by titles including Vogue, Tatler, Harpers Bazaar, Elle, The Telegraph, Glamour, The Daily Mail and The Mail on Sunday.
If you are interested in meeting with Dr. Ophelia Veraitch's at her Harley Street practice, book a consultation today or read more about her services here.
'Dr Ophelia's hair tonics are amazing - I recently noticed hair thinning in my parting and around my hairline during lockdown. They are super easy to use (not too oily) and after a couple of months I could notice a huge difference. It's given my confidence back and I will definitely continue to use for further results!'
Anna Marples
'Following hair loss in my early twenties, PRF combined with Dr Ophelia's hair tonics has given me a new found confidence - I have been trialing different hair growth methods for years and this is the first time i've noticed visible difference. Thank you so much!'
Hal, Richmond
'My acne scars and hormonal outbreaks affect my confidence a lot so having Dr Ophelia's knowledge and expertise behind my treatment plan is very reassuring! I am already seeing a huge reduction in outbreaks'
Elinor M, London
'Dr Ophelia prescribed me retinol cream for under my eye texture which has bothered me for ages! Previous Reinols had led to reaction/ flaking skin - however, Dr Ophelia was able to give me the perfect strength formula not to cause reaction - the texture is lovely & looking forward to the results!'
Anna, London
'Dr. Ophelia's knowledge and experience gave me great confidence in trusting her with my facial treatments! She always makes me feel comfortable and at ease'
Joanne M, Surrey
'A note to say how pleased I am with the hair tonic that Dr. Veraitch has prescribed for me. As time goes by my hair seems to regain more and more life. I have not used anything before on my hair that has given my roots such a lift. Very pleased to date.'
NM, London